---
RE: So How Did You Get Started Woodworking? - Phydeaux - 04-05-2017

Grew up next door to Grampa. He did practical, simple carpentry and woodworking, self taught as far as I know. I started learning from him, then much later on from Norm Abrams, books, and Woodnet.

He gave me the idea I could do the same. Sure wish he could see my shop and some of the things I've made. He'd be quite pleased. His shop was my starting model, with table saw, drill press, jointer, belt sander, band saw, and scroll saw. He didn't have a planer or a miter saw or a router (much less table for it) or an oscillating spindle sander or multiple other hand power tools I've got.

If he was alive now he'd be 120...


---
RE: So How Did You Get Started Woodworking? - wood-chips - 04-06-2017

I think for me it was passed down in the DNA.

I started at 10 years old, that was 1960.  I would go to the cabinet shop a couple blocks away and pester the workers to let me pillage the scrap bin.  I scored lots of project materials there.  If they were running the shaper or other big machinery I had to wait until they were through but they did let me watch from the big outside door. OSHA wasn't even a thought back then.

At 12 years old the neighbor a couple houses away, who I adopted as a grandparent, had a small lathe that he let me use and I spent hours in his garage. That year we added a car port and I helped a lot with that.  Then at 14 we added a family room and helped with everything including digging the footings.

In high school I took two semesters of wood shop. After that community college and an enlistment in the USAF.  Got married, raised a family finished college got a job.  Fast forward, now divorced, single, retired and answer to no one about anything.  I buy tools, guns, cameras/lenses or whatever I want.


---
RE: So How Did You Get Started Woodworking? - Steve N - 04-06-2017

My Dad's Father who I never met was a Master Capenter/Contractor who worked himself and a few crews of Men all the way through the Depression. People who had money were building. My Dad and his Youngest Brother were both drafted into his service, and both were Master Carpenters before their entrance into WWII. Interestingly the middle Son became a Haberdasher, however Bob spent most of WWII as a guest of the third Reich as a POW, he never went into the family biz. My Cousin and I were always together from the first memories I had, and either my Dad, or Uncle was teaching us something about tools, building, trim work, making and repairing furniture, and a lot more. As adults "Cuz" always has had everything hired out, and I did it myself. By the time I was 18 I had 11 Men working for me doing home construction, repair and remodel. I always had tools, and got to be known as the guy to see if you needed a new TS, BS, Jointer, Planer, whatever. I kept the contracting business until I was 54 so until about 8 years ago. During much of that time I have also worked as a RN, mostly in ER's around Dayton, Ohio. At some point probably due to back pain I switched from the whole house, to just items inside the house, mostly furniture, and made and sold a lot of "country" goods with an emphasis on Shaker, and Early American pieces. I have a complete woodshop, and still love to play out there. Mostly I do "Honey do" jobs now, that would be Honey do this, Honey do that......... At 62 I'm looking forward to when I can quit this "work" nonsense and just play in the shop.


---
RE: So How Did You Get Started Woodworking? - nodima - 04-06-2017

I grew up in a woodshop, almost literally, as my Dad's sign making/woodcarving business was in our basement until I was 6-7.   Spent most of my formative years working after school, summers, and weekends.  Became part of my DNA, I guess.  Took woodshop in HS, which was a challenge for both my teacher and me - as things were  done differently there than what I was used to...typical teenage kid I was.   Later took a wood sculpture class in college.  Got back into it on my own after buying a house, by being disgusted at what was passed off as furniture in stores.  Started off with a few simple coffee and occasional tables, and the tools started accumulating.

Amazed at reading the previous replies, at how many did no woodworking until they were adults.


---
RE: So How Did You Get Started Woodworking? - Large Wooden Badger - 04-06-2017

My dad did a little woodworking , I took shop etc in school.  But the actual moment I really got into it was when I was shortly out of college and working.  I spent a Christmas at home, the lady that runs the grocery store always gave away the old magazines that got damaged.  She gave my dad an American Woodworker magazine without the cover.  I found it when I was home that Christmas and read it from cover to cover and I was hooked.  Subscribed the next day and have been tinkering in the shop ever since.


---
RE: So How Did You Get Started Woodworking? - Cooler - 04-06-2017

I was working as a picture framer and I wanted to open my own shop.  I would need backroom work stations (plans were available from the framing trade association.)  

I also needed front room cabinetry.  The local vendors were charging a lot and quoting 6 to 8 weeks for delivery.  I suspected that 10 to 12 weeks would be more likely.  That would mean that I would be paying rent on the store for probably 3 months (close to $10,000.00) awaiting the cabinets.

So I bought my first table saw and learned to use it from a book.  I built all the back room stuff (really easy stuff with butt joints and glue and screws on particle board).  And that turned out well.  

So I decided to make modular front room cabinets that I could configure to any store design.  The idea was that I would rent the store, put up a banner while I awaited the sign and install enough of the cabinets to open the doors in 1 to 2 weeks.  I would add the rest of the front room fixtures over time.

A blitzkrieg.  

But I developed arthritis in my hands after the first few front room pieces were done and I had to abandon my plans to open the frame shop.  

And that is how I got into woodworking at the age of 49.


---
RE: So How Did You Get Started Woodworking? - joe1086 - 04-06-2017

Norm A.


---
RE: So How Did You Get Started Woodworking? - K. L. McReynolds - 04-06-2017

Dad did a lot of craft woodworking to use/teach at summer church camps. I was too impatient and imprecise to enjoy woodworking. Welding/grinding/heating metal was more satisfying for me early on. Plus, since we moved often, Dad's tools were small and inexpensive, fine for the craft work he did, but not conducive to larger projects.

Did a lot of mechanical side work in my spare time(supplementing income), so never had the time nor space for woodworking.

Then moved to a place with no mechanical work space and found we needed some furniture to fit specific sized spaces. Bought an unfinished piece, stained and finished it and found I enjoyed the process. Decided to try and build the size specific stuff(mainly plywood, since funds were low). Built a queen sized headboard for the bed and caught the bug. Worked out of an unheated detached shop/storage shed(which I built from experience obtained from volunteering to help build houses with Habitat for Humanity) until we moved here where I have a basement shop.

I've built a couple pieces which are used in other places(trophy cases) and donated lots of boxes/etc. to worthy causes. Tons of picture frames.

Learned as much or more about woodworking right here as from all other places combined.


---
RE: So How Did You Get Started Woodworking? - MichaelMouse - 04-06-2017

Dad's doctor told him if he didn't lose twenty pounds, quit smoking and get a hobby to decompress, he was going to die.  He got a Sears saw/jointer combination and started making furniture.  Hired a seven-year old to clean the shop.  One dollar.  Seven year old also shined dad's 10 pair of shoes.  One dollar. 

I got to use hand tools and the scrap pile, saving pieces as I was picking up the former coal bin that served as a shop.  Last time I visited - their 50th anniversary, Mom told me dad had started to clean the garage shop that he now used, then put the broom away, saying "the kid's coming out next week."  Yes, I still remembered the order and tools for cleaning that old Sears combo.


---
RE: So How Did You Get Started Woodworking? - ®smpr_fi_mac® - 04-06-2017

I took shop class in the eighth grade.  1989, I think?  One of the semesters was wood shop.  Each student built a clock.  *Every* other students' clock was either a football helmet shape or a guitar shape.  I wanted to be different, so I made mine in the shape of a rooster.  It hung in my parents' home for twenty years until they gave it to me when I bought the house I'm in now.

I didn't get back into wood working for nearly fifteen years, and even then, it was sporadic.  Hopefully now, with the purchase of a new home AND a larger shop, I'll do it more often.


That first clock: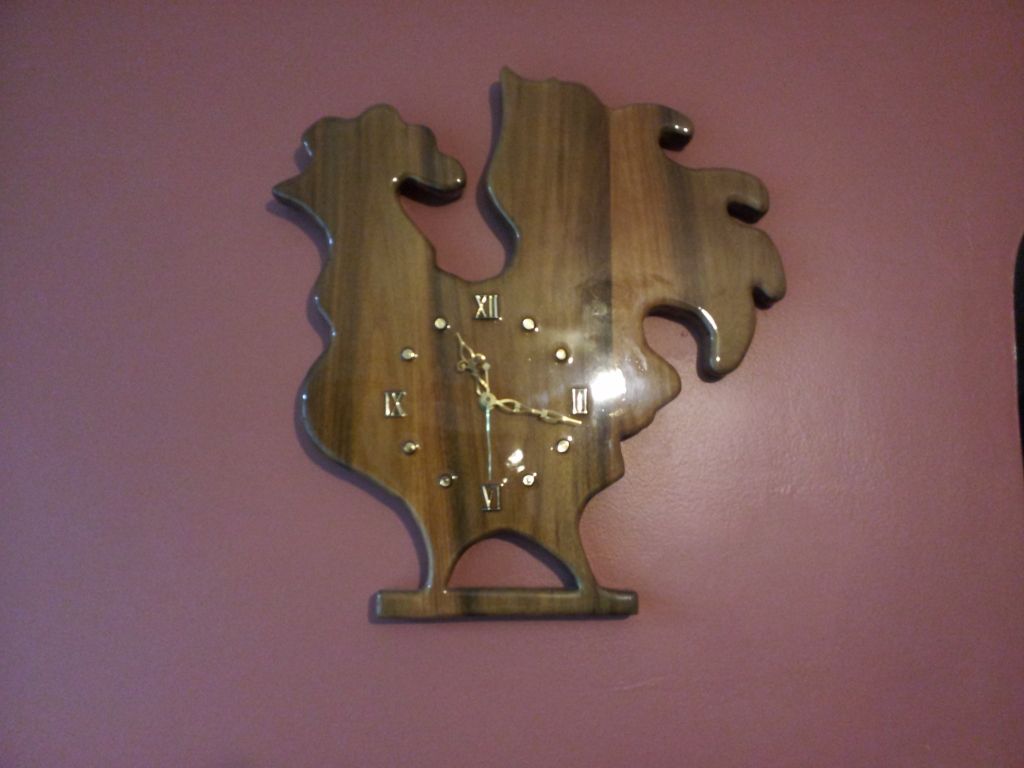 One I built for my in-laws this past Christmas: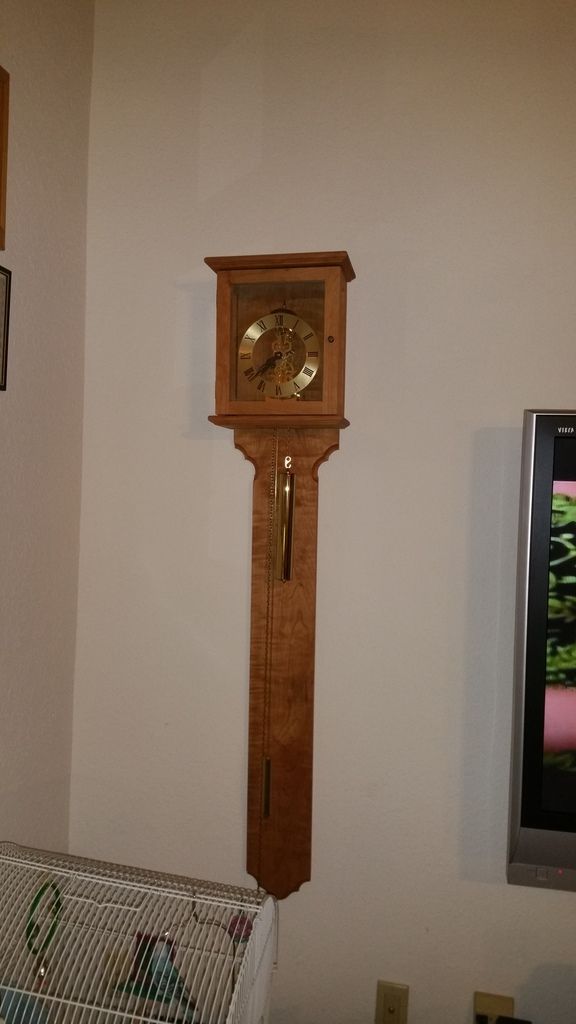 ---