---
New Shop Cabinets - T.J. - 02-23-2021

I've spent a fair amount of time over the fall and winter seasons this past year building shop cabinets.
They're long overdue, but I tried to build them to specific dimensions which would be flexible in various arrangements. So, these are all the exact same depth; the tallest of which is the same as my main work area (separate from my Roubo). 

The idea is that I could group them all together in a future shop and they would sort of match. I also plan to build a couple of single-bank units just like these, but much shorter and stack-able.
That way, they could serve as a stack OR be stacked separately on top of the ones pictured here. Modular.

Some have oak faces, some have black walnut faces. All have black walnut drawer pulls and homemade half-inch edge banding. Cases are in baltic birch with battleship gray pain and 3 coats of water-based poly to try and make the paint a bit more durable and also resist dust.

Sharpening station and surplus hand tool storage: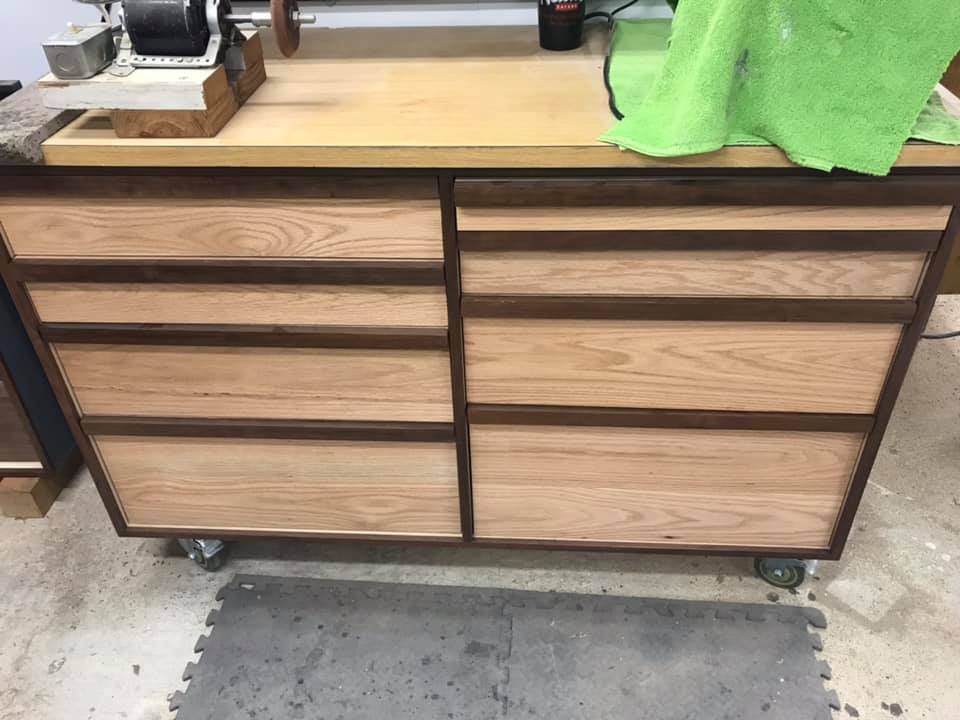 Lathe tooling cabinet (I'm getting into metalworking now, too.)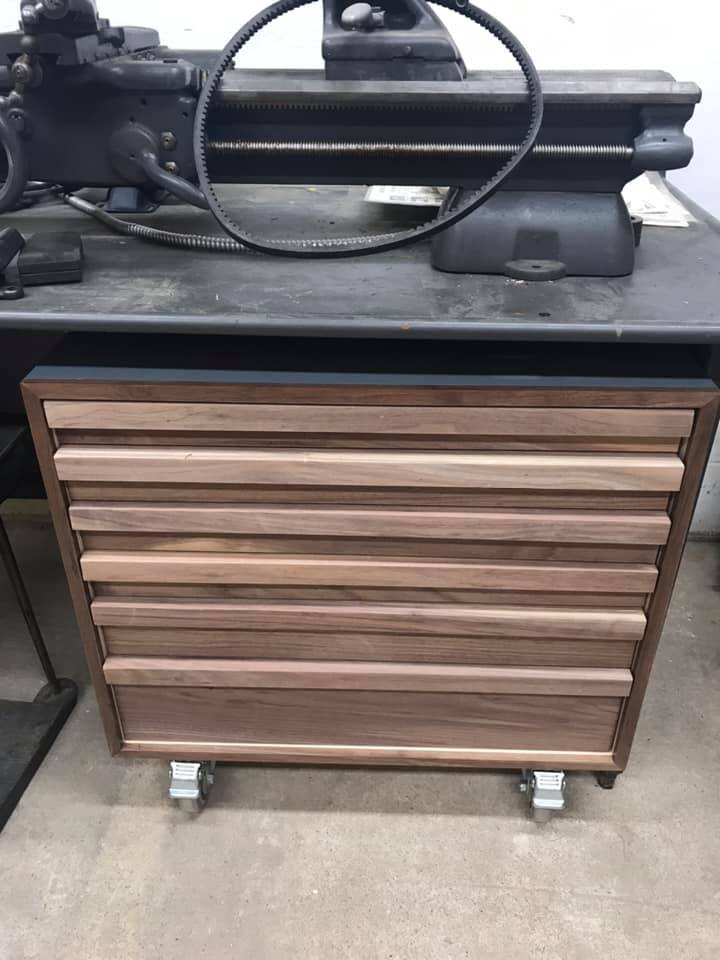 Sanding Station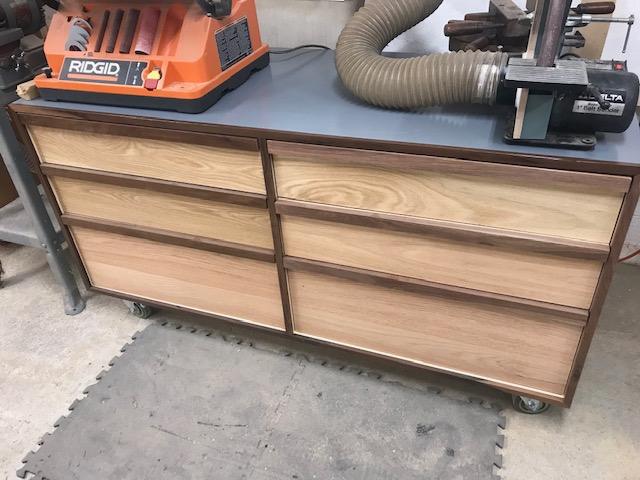 Wood Lathe cabinet for chucks and small turning blanks (Does not fit my "modular system")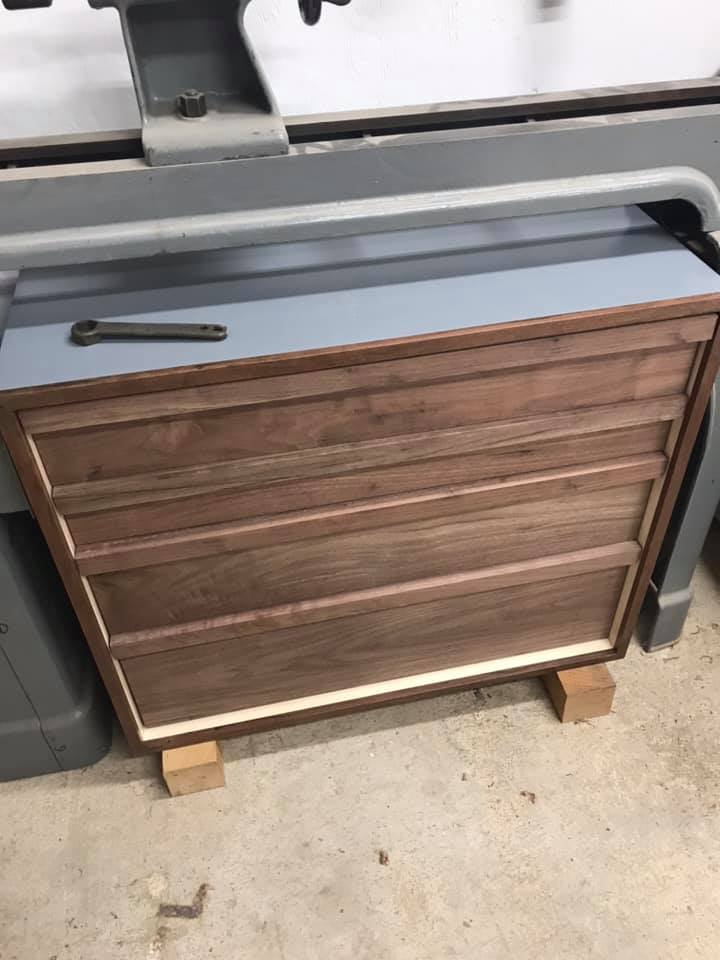 ---
RE: New Shop Cabinets - fredhargis - 02-24-2021

Wow, really nice shop cabinets. Well thought out for the future as well, nice!


---
RE: New Shop Cabinets - oakey - 02-24-2021

wow is right those are really nice i have been thinking of doing sort of the same
my shop cabinets are a mix that were repurposed from what i had on hand
so some are old kitchen cabs some are what scraps i had on hand the day i needed storage
i keep telling myself just remake the whole lot


---
RE: New Shop Cabinets - shoottmx - 02-24-2021

Geez, they look fantastic and well thought out!! Good work.

g


---
RE: New Shop Cabinets - Big Dave - 02-25-2021

Very nice!



---
RE: New Shop Cabinets - BrokenOlMarine - 02-26-2021

Yes, very nice.  You can never have enough storage. 

---
RE: New Shop Cabinets - Stwood_ - 02-28-2021

Lookin really good there TJ.


---
RE: New Shop Cabinets - wood-chips - 03-01-2021

Those are very nice shop cabinets!


---
RE: New Shop Cabinets - T.J. - 03-02-2021

Thanks, guys. 
I've used salvaged cabinets and such for many years myself. And I have quite enjoyed adapting to what I find as my shop(s) evolved.

At this point, I'm shooting for something more methodical and custom in hopes of better minimizing the the space I need to store what I have.
Another aspect I like about this process is the opportunity to empty out what I have and condense it all as I fill up the new cabinets. It ]helps me understand what I really need and what I can get rid of.

I think the next cabinet I'm going to build is one for hardware and parts. My biggest organizational problem right now is screws, bolts and such. I still have several containers of disparate nuts and bolts and metal that really need a unified approach.
I have realized over the years that I HATE the plastic drawer chests most of us end up using for hardware at some point in our shops. I hate having to open each one to see what's in it.
I MUCH prefer a series of large, shallow drawers with dividers or containers I can see all at once.

So, I'll do a new cabinet in the same design as these other new ones and consolidate all of that stuff together.


---