For lack of a better description....
The church I attend is a "1970s contemporary", done in a surround fashion with a peak in the middle of the sanctuary with a large wooden cross hanging down.  Because of the arrangement with congregation, choir and pastor looking on form four different sides, the cross had four horizontal arms, rather than the normal two.  About three months ago, a clap of thunder was enough to snap the 46-year-old cable and it came crashing to the floor.  Thankfully, it was the middle of the night and no one was under it.  Some might attribute this to divine displeasure. 

  I'm inclined to go with bad engineering.  The cross was solid oak, weighed 75 pounds, and was suspended on 1/16" cable.  Grossly inadequate!  It was decided we needed something much lighter, but with the same visual impact.  This is what I came up with.  QSWO ripped into 1" square sticks and joined at the intersection with cross lap joints.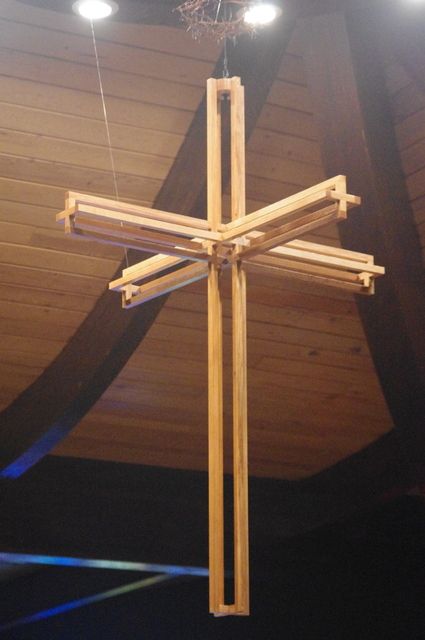 Not a great picture, but you get the idea.  Same size as the original (78" h, 54" across) and 1/3 the weight at 25 pounds.  We also hung this one with 1/8" cable rated to 400 pounds. 

A retirement dedicated to fine woodworking and bad golf.